1. Let me introduce myself: who is Charles?
Charles: "I come from a true family of lawyers. I also went to study law in Utrecht. However, because of my creativity and the urge to implement ideas, I quickly realized that I did not want to become a lawyer, but rather wanted to become an entrepreneur. I like to combine psychology with commerce and then ended up with marketing courses. I found that enjoyable. The desire to venture out has always been with me. I always have a lot of ideas and I am optimistic, so I believe everything will work out and I therefore want to implement my ideas. "
2. When and why did you come up with the idea to start Charlies Travels?
"When I graduated in 2014, I was at that time in Nairobi for an internship, which later turned into a job. During this time I noticed that the "real" Africa was much more fun than the beaten track that many tourists travel, including my family and I on a trip in 2004. I thought: this is a niche in the market! In addition, I love to travel and I want to be my own boss. With my travel agency Charlie's Travels I now take care of off the beaten track trips. My company is located in Nairobi and I now live and work there with my employees. "
3. What exactly is Charlie's Travels and what makes it different from other travel companies?
"Charlie's Travels is different from other travel agencies because we are truly on the ground in Africa. You can submit a request to us for your dream trip through Africa. We then discuss it and based on your wishes we organize this trip for you. We develop our own tours, chart new routes, work together with local tribes and explore undiscovered areas-places where no one has been before! We also have our own motorcycles for a unique motor safari. Africa is not yet massively touristy, and the tourists who come there all visit the same places. With us you get the "real" Africa. Of course you also see the Big Five, but there is so much more. The African experience the way Westerners want to experience it. Africans often think the more luxurious the better, but today's travelers consider that a tourist trap."
4. How do you start a business in Africa?
"It was not that difficult, really. Just like in the Netherlands: you register with a kind of Chamber of Commerce. Additionally you need to have some kind of lawyer who you give some little money to speed up the process. Anyone can handle this formal process. It's the creative process that matters. So, put yourself in your customer's shoes: what does today's traveler seek?They want a unique experience, a personal touch. That is what became Charlie's Travels. Don't overthink it, just do it! Otherwise nothing will happen. My first clients were Western volunteers and expats living in Kisumu. In fact, I gave every white person I saw one of my flyers for a safari. After that, my first clients from Europe followed, through word of mouth, even before the website went live."
Curious about all our destinations?
5. How did Charlie's Travels grow from 1 to more than 20 people in a short time?
"Including local staff, we are now around 23 people or so. This growth took place within three to four months. The product is good: everyone thinks the trips are fantastic and the referral is high. Then you have to grow, but I am not very organizational or good at structuring processes. That is when I hired a manager who then found local staff and interns.  After that, I searched for a large house (sixteen rooms!) where we could all work and live together. This is very cost-effective. It is a beautiful building with a real travel vibe. Our employees come from the Netherlands, Germany, Austria, Romania and even Hong Kong. The environment in which we work has a real start-up vibe, is flexible, young, creative and we see what works well and what doesn't. "
6. What does a normal working day look like?
 "I started Charlie's Travels because I love f*cking traveling and thought I could travel a lot. I didn't think it would become such a big company (so soon). I now travel a lot less than in the beginning and I have less freedom. When my girlfriend is not around, I work from 8:00 in the morning until about midnight. From 9:00 am to 6:00 pm I am mainly involved in guiding others. When my girlfriend is there (she also works for Charlie's Travels) we lie in bed cuddling a bit longer, then run and start work at 9:00 am. By the way, I no longer personally guide trips; I collaborate with local people for that."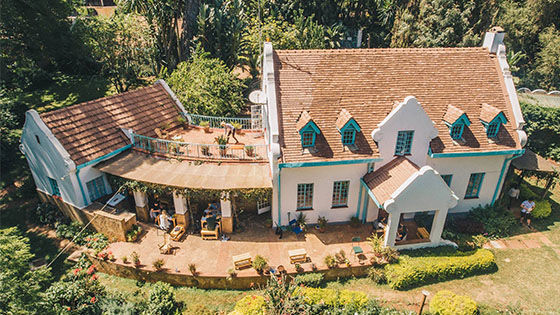 7. What differences do you experience in doing business in Africa versus doing business in Europe?
"Everything is flexible here, you have to anticipate that. If someone says he'll come by tomorrow, you can never be sure. There is also little efficiency here .  Because of this, you have some leeway, and you don't have to be super efficient from the start to keep the business running. In the Netherlands there is a lot of competition and the margins are smaller, but if you create something here with Western standards, you will quickly do well. Furthermore, doing business here is very personal. You really have to like each other. Build a friendship first, then do business. I really enjoy that social aspect of doing business! "
8. Can you tell us a bit more about your latest themed trips African Festivals?
 "The themed trips, African Festivals, align with what we do: we promote Africa beyond safari and beach. Festivals are such an added value. In Europe, we sometimes travel for a few hours or more to a festival. Why not go to an African festival as a highlight of your trip? Festivals are much more exciting here than in Europe. Africans know how to throw a party! With this, we target a young audience looking for something different and who loves a good party. The Bushfire festival in Swaziland is a good example. This festival, which takes place again at the end of May, is a top 10 festival in Africa. A huge number of artists and people come from all kinds of countries. Swaziland is already very cool anyway. It is very green, hilly and the people are super friendly and warm. "
9. It is not for nothing that you live in beautiful Africa. How do you keep the balance between work and leisure?
"Fortunately, I still travel a lot for work. I still have to keep discovering, meeting people, etc. This summer I will be traveling again for two months. Although that remains work. I mainly try to keep a balance between "office months" and "travel months". Achieving a true work/life balance is challenging. Of course I live and work in the same place and outside working hours I make trips with the people who also work for me.  And that, in turn, is team building. My girlfriend keeps me most balanced, despite the fact that she also works for Charlie's Travels. Without her I would really just work. But I really like my work, so it's fine! "
10. Last but not least: what is your ultimate Africa country?
"Kenya is my home. That is no longer a holiday for me. I think Ethiopia is very cool for the holiday feeling. The people are so beautiful and calm. It is truly a different culture, different music, different cuisine. They have a typical coffee ritual and Ethiopian church. A really strong culture, probably because Ethiopia has never been colonized. I would also like to explore countries like Sierra Leone and Congo and then build tourism from scratch. Why off the beaten track? There isn't even a beaten track there yet!"