In 2014, Charlie boarded a plane to Africa. With a neatly trimmed beard and a Law degree under his arm, he flew to Kenya! With the intension of starting an internship with an African financial provider, he was set. Although he was having a great time, he felt something was seriously missing from his life. His curiosity about Kenya was increasing and he found it hard to sit still. Ultimately, his hunger for adventure was growing at lightning speed!
So he rented a motorbike and set out on an adventure. A real adventure! Off the beaten track and through the bush. He made a trip that would change his life forever. When he met some men of the traditional Masai tribe with whom he ate fresh goat meat around the campfire, exchanging strong stories and dozing off under millions of stars in the open sky, a friendship for life arose.
Charlie knew what he had to do! There was so much more to the African continent than safari parks and luxury beachfront lodges serving buffet breakfasts. Perhaps he could develop a more adventurous trip himself? This was it, he was going to combine authentic, off the beaten track experiences to show European travellers the real Africa. And so, as the sun rose over the vast Kenyan savannah, Charlie's Travels was born. Years later, here we are! A group of Dutch and African Africa enthusiasts working together to show travellers the real Africa! We're growing and learning every day, and never stop exploring.
Curious about all our destinations?
We want to live and experience the trips we create, and we can't do that from the Netherlands! Our head office is in Nairobi (Kenya) and we have offices in Kampala (Uganda) and Cape Town (South Africa). Additionally, we have freelancers who design trips from Ethiopia and Tanzania too! By doing business this way we get to work closely with our local partners to ensure that we are providing our travellers with the best possible experience. We believe that by cutting out the middle man, we can ensure that local communities are supported, money goes to the right places and that our standards are upheld.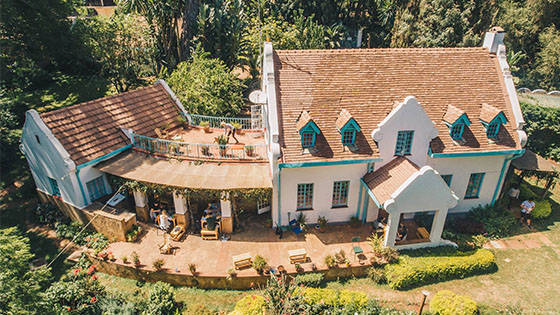 Living in Africa we see the ramifications of global warming accelerating at an alarming rate and it's not pretty. Droughts and flash floods can be crippling to both food facilities and living conditions of local communities. However, we also see the impact global warming has on the tourism industry. There is no shortage of commercial lodges owned by foreigners, selling package tours that hop between the lodge and closest safari park and back again. A lot of tourism in Africa is centred around the same places and accommodations which of course, is not beneficial for the local communities, wildlife or the climate. Naturally, these types of environments do help with the employment rate but not as much as you'd think (source: Akama & Kiti, 2007). Unfortunately, a lot of the food served at these lodges are imported from abroad where little is recycled.
Tourism is undoubtedly one of the largest industries in the world. With that being said, it also involves an enormous amount of money! Did you know that as an industry it is worth approximately 8,8 trillion USD? At Charlie's Travels, we can ensure that our travels have a sustainable positive impact on the climate, local communities, economies and wildlife. Being on the ground in Africa we would like to make a noticeable change and help create a better space. To achieve this, we have three major pillars within our company structure that aim to create a positive impact on culture, climate, economies as well as the development of local communities and entrepreneurs.
REDUCING OUR CARBON FOOTPRINT:
To reduce our, and our travellers' carbon footprint, we searched far and wide for projects in both East and Southern Africa that counteract the effects of global warming. Booking a trip to Africa with us means that a part of your travel budget goes towards the carbon credits for one of our amazing projects meaning that you do your part in contributing to sustainable travel.
Sustainable business with local communities: we create job opportunities for local communities and entrepreneurs by working together with them to create tours, hikes or homestays for our travellers.
ETHICAL AND RESPONSIBLE TRAVEL:
We acknowledge that being able to, and having the financial advantage to travel is a privilege. As travellers, we often have a different cultural background to the people of places we travel to and therefore, we need to ensure that we are continuously aware of attitude and behaviour when visiting a new country. As a company, we hope to inspire equal cultural exchange for both our partners and travellers.