Go out with Charlie's Angels and you are guaranteed to take the "tourist" route. They missed an exit and ended up on the parallel road which is one big cheese of holes. For three hours, they sat in the car, bumping and hoping for an improvement of the road surface. As they manoeuvred themselves through the small villages, they came to the conclusion that next time, they should perhaps look at the map before setting off. Of course, our Angels didn't let this spoil the fun and continued bumping and banging their way through the villages in search of a new experience around Lake Naivasha!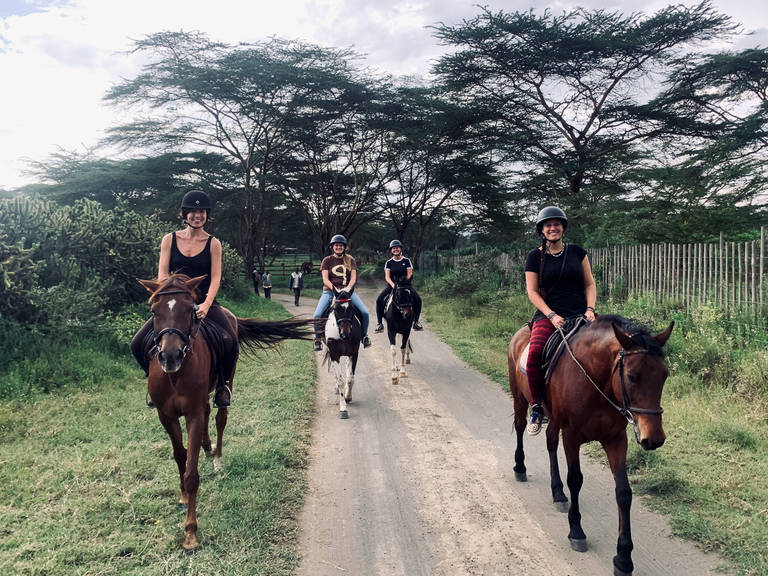 HORSE RIDING AMONG THE WILD ANIMALS
After an intense drive, they arrive at the Sanctuary Farm, a unique little paradise where riding enthusiasts can get their money's worth. Not only experienced riders are welcome here, but also beginners can take their first ride safely and easily. The Angels mount their horses and begin this unprecedented adventure. The wildlife does not seem to recognise them as persons on their quadruped, which allows them to get even closer to the animals than usual. Our Angels soon discover that this is not the case for the large, muscular water buffalo and, with drops of fear sweat on their foreheads, they now ride in a wide circle around them. Spot giraffes, zebras, water buffalos, wildebeests and impalas while the horses zigzag between them. Beginners ride relaxed behind their guide, while more experienced riders can make use of the jumping track! Not a horse fan? Do not despair! You can also take beautiful walks here.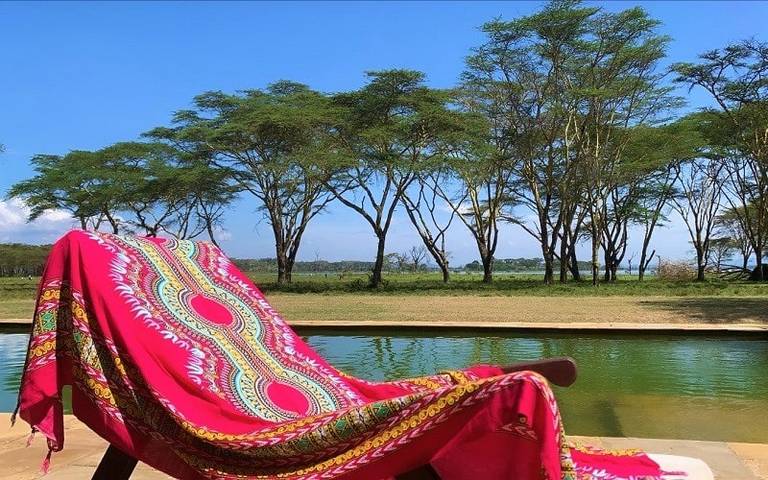 Francis Erskine, a man with a great passion for horses and polo, bought Sanctuary Farm in 1970. He built a clubhouse, stables and polo field. The 'Club House' now serves as a delicious organic restaurant for lunch and dinner. Would you like to eat here? Don't forget to make a reservation in advance. The food is served in a delicious buffet. Everything is super fresh and while eating, you can enjoy a beautiful view of hippos and giraffes grazing in the meadow. When our Angels were completely satiated and thought the buffet was over, they were surprised with a delicious cheeseboard for dessert! The real cheeseheads were of course overjoyed about this.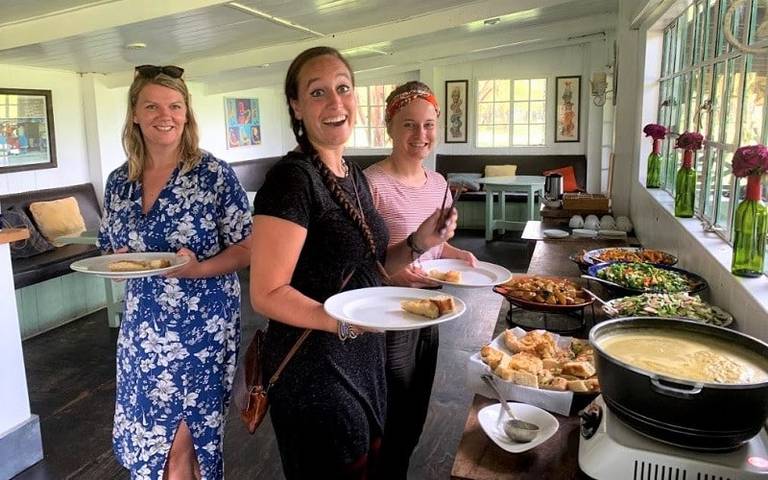 Curious about all our destinations?
SPENDING THE NIGHT AT THE SANCTUARY FARM
After an adventure on horseback, you can stay at the Sanctuary Farm. Choose to camp in a basic safari tent with beds or stay more luxuriously in one of the rooms. In 2012, the stables were converted into luxury ensuite accommodation with a private veranda overlooking Lake Naivasha. There is a shared living room with a fireplace and an overflowing bookcase filled with countless books. Even Wi-Fi is available, allowing you to connect with the home front and share all your special adventures. In the morning, fresh tea and coffee is served, while you quietly wake up on your veranda. Here and there you will see some cows wandering around the Farm. Twice a day they are milked by hand. Guests are more than welcome to roll up their sleeves and take the cow by the horns (read: udders).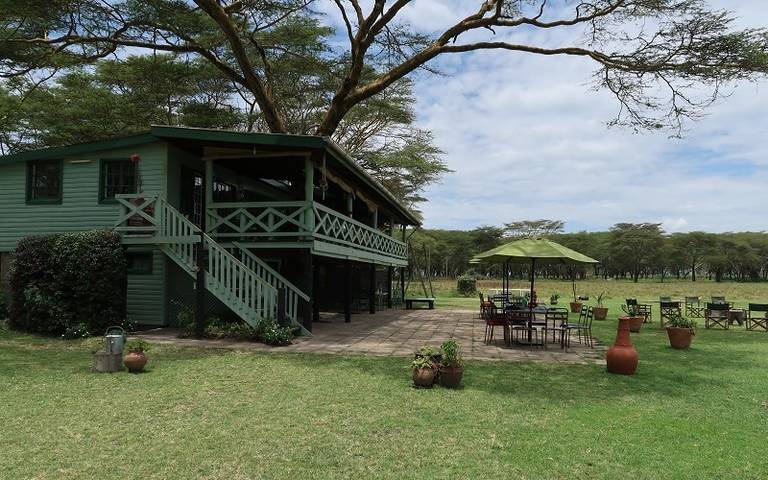 DAY TRIPS AROUND NAIVASHA
The Sanctuary Farm is the ideal base for various day trips. Unbuckle your sporting shoes and climb Mount Longonot, or swap your horse for a steed and take a delicious bike ride through Hell's Gate National Park. A little less active? Game drives in Nakuru National Park are also highly recommended! Or take it easy and relax at the swimming pool, where you will hear a wide range of birds pass by.
Don't feel like leaving the farm? You don't have to! You can easily spend some time here, in the middle of nature. Within walking distance is Crescent Island. On this island there are beautiful 360° views of Lake Naivasha. Cars are not allowed and with a guide you can make beautiful walks here.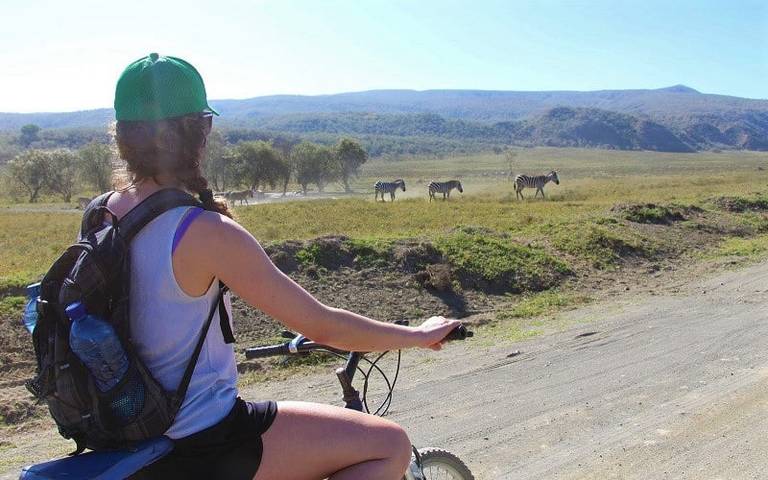 "CURIOUS ABOUT A GREAT DESTINATION TO DISCOVER AFTER YOUR VISIT TO LAKE NAIVASHA? THEN TAKE A LOOK AT OUR PAGE ABOUT MOUNT SUSWA!''
Our Angels spent the night at Camp Carnelley's, one of Charlie's favourites. This accommodation is about 15 minutes away and serves the best pizza in Kenya. After your meal, sink into the restaurant's colourful cushions. After a pleasant night, the Angels started the journey back with fresh courage, this time via the main road. And that went a lot faster!