Sustainable travel to Tanzania with Charlie's Travels
We are constantly working to make our trips more sustainable. For example, we work with partners such as JustDiggit, which has made greening East Africa and the planet their core business. Flying to the other side of the world is not necessarily sustainable, but we can make a faraway trip, together with you, more sustainable. In Tanzania, one way we do this is by spreading tourists around the country, using eco lodges and working with local people. We also use sustainable travel options such as bus, train and tuktuks. Tanzania is an amazingly beautiful country, and we would like to keep it that way by offering trips where great respect for the local people and Mother Nature is key.
Travelers from all over the world flock to this country for Tanzania's unprecedented natural beauty and biodiversity. Not surprisingly, because the landscape in Tanzania is truly next level beautiful. It is a giant melting pot of plants, animals and different vegetations. Here you will discover the famous Lake Victoria and Kilimanjaro, the highest peak in Africa. In addition, beautiful savannahs and rainforests await you, each with its own unique flora and fauna.
What should you really see in Tanzania?
As far as we're concerned, you shouldn't go home until you've discovered the country's unique flora and fauna and met 1 of Tanzania's 128 tribes. Because of the immense size of the country, you obviously can't see everything during a two- or three-week trip. We have listed for you three natural wonders that you really must see in Tanzania.
Africa's highest mountain, Kilimanjaro, reaches 5,895 meters and has three volcanic peaks: Mawenzi, Shira and Kibo. What makes Kilimanjaro so special is that it is the only one of the "seven summits" you can climb without extensive climbing training. But, that also makes this unit of a mountain very popular among tourists. A good alternative to the Kili, are the Usambara Mountains. The mountain range is covered with huge tropical forests which is quite unusual for East Africa, a real ecological and biodiversity hotspot! Looking through the forests on a clear day, you can see Kilimanjaro on one side and the grassy plains of Mkomazi National Park on the other. As such, the mountain range is known for its spectacular views, especially when the sun sets. At the end of the day, during sunset, the area transforms into an unforgettable palette of colors. As far as we are concerned, a trip to Tanzania is really not complete without climbing, touching, or at least seeing the Usumbara Mountains.
Lake Victoria is – with an area of 68,800 square kilometers – Africa's largest lake. The lake flows through Kenya, Uganda and especially in Tanzania. In addition to that Lake Victoria is the largest lake in Africa, it also bears the title of second largest freshwater lake in the world. Definitely worth a visit if you feel like boasting to your friends!
Ngorongoro Crater is one of the greatest natural wonders and one of the most densely populated wildlife areas in the world. You will find elephants, rhinos, lions, cheetahs, leopards, buffalo, zebras and countless beautiful water birds. The giraffes were a little late to the party, and are the big absentees in this UNESCO World Heritage Site. However, due to the enormous popularity of this area, do keep in mind the huge land cruiser density. 😉
Note! Due to the enormous popularity of this area, do keep in mind the huge land cruiser density. 😉
What is Tanzania known for?
Tanzania is known for the idyllic bounty beaches of Zanzibar and as an insane safari destination. This is also very true, but the country has so much more to offer. We at Charlie's Travels do not offer trips that only introduce you to the wildlife of Tanzania and Zanzibar. Of course, it would be an eternal waste to skip the many other beautiful places in Tanzania.
Trees and plants in Tanzania
Of course, for all the tree-huggers among us, we also like to broach this subject. What trees grow in Tanzania? What plants can you find in Tanzania? Well with the area of this country, I'm sure you can imagine that there are many of them. One of the most iconic trees in Tanzania is the baobab tree. The baobab tree is known for its unusual appearance, with a thick, gnarled trunk and branches that resemble roots sticking up into the air. These trees are often affectionately called "monkey bread tree" because of the fruits they bear. These fruits of the baobab – as the nickname surely suggests – are loved not only by humans, but also by monkeys.
Another striking tree you see a lot in Tanzania is the jackfruit tree. Jackfruit is a large fruit that can weigh up to 50 kilograms. It has a sweet taste and is often eaten or used as an ingredient in various dishes. Not only do you see this tree a lot in Tanzania, it also contributes to the country's fertile landscapes.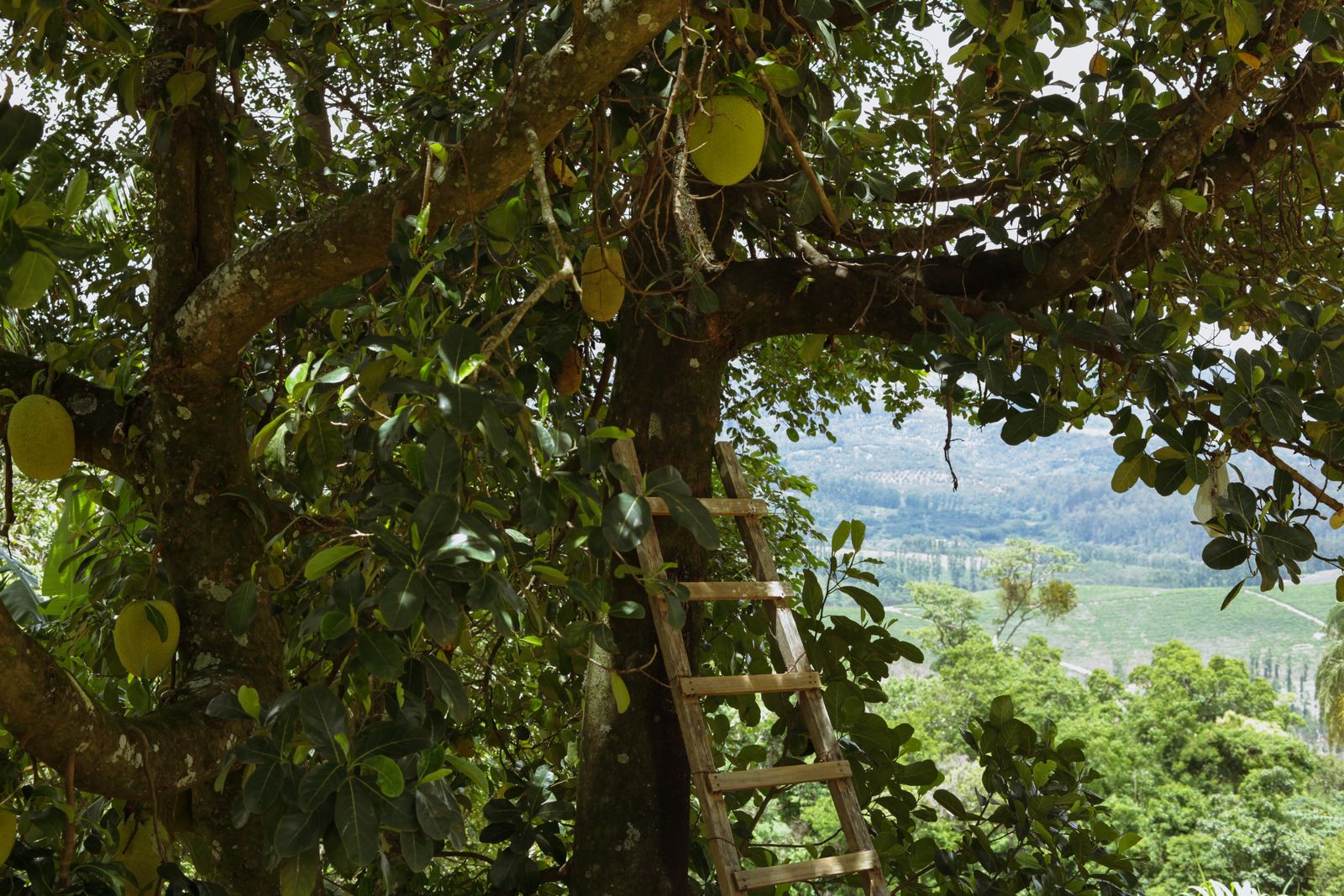 Tanzania is rich in beautiful mountains, one of which is the very largest in all of Africa! We mentioned it earlier: Mount Kilimanjaro. But besides the Kili, there are other mountains rich in beautiful nature and vegetation that lend themselves well to a hike where you are surrounded by beautiful nature.
Yes, of course Kilimanjaro is number one because no mountain can top Kili! But let's talk here mostly about the different vegetation and nature you will encounter along the way. First, you are surrounded by lush forests and whistling birds and fresh morning breezes. As you get higher, the landscape changes rapidly. The trees are thinning and the moss hanging from branches looks like Merlin's long beard hair. Further up, it becomes rugged and rocky, and as you near the summit, the landscape changes to ice and snow.
Speaking of trees with branches like Merlin's beard hair: it is truly a fairy tale scene
Mount Meru is perhaps the favorite within the Charlie's Team! The climb to the summit of Mount Meru is shorter than the Kili – so if you find climbing Kilimanjaro a little too challenging, the Meru is your guy! You start with a walk through Arusha National Park, and if you're lucky, you might just come face to face with a giraffe or a zebra. Then you walk through a rainforest, surrounded by the sounds of exotic birds and the buzzing of insects.As you go up, the landscape changes. As you approach the summit, the scenery becomes increasingly rugged and you hike among rock formations and volcanic stones.
The sacred Masai mountain Mount Longido is a big favorite, and mainly because not only do you do a fantastic hike here, but also because you learn more about Masai culture during your hike. You begin your hike in a dry savanna landscape, surrounded by acacia trees and the rich colors of the African earth. As you climb up, the landscape gradually becomes more rugged and the flora begins to change. It gets bushier and greener, and you find yourself in a mysterious forest, walking past imposing trees and thorny bushes. As you get higher, the vegetation becomes even more sparse and turns into a mega-sized rock formation.
Our three favorite wildlife accommodations in Tanzania
After that immersion in Tanzania's rich nature, of course you'll want somewhere to sleep. Here are our top three accommodations in nature in Tanzania:
Fish Eagle Point is an insanely beautiful eco-lodge, just a little above Tanga, in the middle of nature. The charming bungalows and cottages merge with the natural surroundings, providing an ideal base to enjoy mangroves, forest walks and an abundance of colorful birds!
Olerai Lodge is the perfect escape from all the stimuli of Arusha. This small-scale eco-lodge is surrounded by lush landscapes as well as committed to sustainability and nature conservation. So here you not only end up in a beautiful natural environment, but you also contribute to the preservation of nature for future generations.
Tarangire is especially popular because of all the wildlife you see roaming there. In addition to comfortable accommodations, the lodge offers a special experience: from the pool you can enjoy the view of elephants congregating at the watering hole. It is an unforgettable experience to relax and enjoy all the beauty of Tanzania, while witnessing wildlife in their own habitat.