Kenya and Tanzania are two countries where you, as an Africa lover, can indulge in your passion. The two have many similarities, yet are definitely different from each other… We list the biggest differences for you.
3 similarities between Kenya and Tanzania
Both Kenya and Tanzania are safe and enjoyable countries to travel in. Tanzania is often thought to be safer, but from our own experience, both Kenya and Tanzania are safe to travel ,with friendly and warm locals. Of course, you have to take standard precautions, but that is true of many countries and places. Take a taxi rather than a motorbike taxi in the evening and always watch your belongings carefully. In case there is no safe in the accommodation or you don't quite trust it, always take your most valuable belongings like a passport or your grandmother's wedding ring with you. If necessary, bring your own padlock so you can keep your belongings safe.
#2 The friendliness of the people
Jambo! Habari? Mzuri sana! These Swahili phrases you can hear everyone saying the moment you walk down the street. People in Kenya and Tanzania are friendly and warm and happy to help you out. You won't soon forget the welcoming smiles of the people here!
Both Kenya and Tanzania have the Big Five as famous inhabitants! As such, a safari in, say, the Masai Mara (Kenya) or the Serengeti (Tanzania) has many highlights. How about the annual wildebeest migration ('The Great Migration'), where the wildebeest walk from the Serengeti to the Masai Mara? The Serengeti may be larger in area, but the Mara, on the other hand, has a densely populated wildlife population. So, a clear tie here: in both parks, you'll feel like you're right there with Freek Vonk.
"...In both parks you'll feel like you're right there with Freek Vonk.
6 differences between Kenya and Tanzania
Kenya and Tanzania have both been colonised by Britain and therefore English is spoken to some extent in both countries. In Tanzania, English has been abolished as an official language and education is in Swahili. Therefore, people in Tanzania in general do really speak significantly less English compared to Kenya. Extra lesson in Swahili then?
Kenyans are known as better businessmen and perhaps that is one of the reasons their economy is doing better. They are known in neighbouring Uganda and Tanzania as good, reliable managers and it is not unusual to see a Kenyan at the helm of an accommodation or tour operator. This savvy approach also means that Kenyans can be more assertive and may try to sell you something more frequently. Tanzanians, on the other hand, embody a more "pole pole" (slow and steady) and "hakuna matata" (no worries) approach. People tend to keep to themselves more, creating a more pleasant experience for travelers. In any case, we are happy to have our headquarters in Nairobi and a bus takes you to the Tanzania border within 3-4 hours; best of both worlds, in other words.
Here lies a clear difference. Because in Kenya the country does not rely largely on tourism, prices are generally lower. In Tanzania, unfortunately, the government decided to levy a hefty tax on tourism. As a result, everything in Tanzania becomes a bit more expensive, especially popular attractions like Serengeti, Ngorongoro Crater, or Zanzibar. Flight tickets to Tanzania – especially in high season – are also more expensive than a return ticket to Kenya. However, daily life (food, drinks, accommodation) is slightly cheaper in Tanzania. But Kenya is and will always be the friendlier choice for your bank account.
Tanzania is significantly larger than Kenya and the major highlights that one really does not want to miss (the Northern Safari Circuit and the beach/Zanzibar) are far apart. As a result, travel times are slightly longer, making the trip a bit more expensive. Kenya is slightly more compact and Nairobi is more central from where you can make numerous interesting loops. The connection to the beach is better, and especially since we have the new train from Mombasa to Nairobi. If you want to see Tanzania properly and go off the beaten track, we recommend a three-week trip. If you have a bit shorter time, Kenya is still very much off the beaten track!
Nairobi is a metropolis with an abundance of restaurants, bars and nightlife spots. Even after living in Nairobi for a longer time, I am surprised every time. Fun parties can be found here every night and every weekend. Dar Es Salaam, Tanzania's largest city, also has interesting spots, but is a lot quieter and less happening. And Dodoma, Tanzania's official capital, is really dwarfed by bustling Nairobi. In addition, Kenya also has the extraordinary port city of Mombasa, which is really a melting pot of cultures. Tanzanian cities are a lot cleaner though and you see a lot less rubbish on the streets.
Airports, roads, WIFI, taxis and shops: these are by far the best regulated in Kenya. A clear example of a stronger economy. Unfortunately, this also poses an immediate problem. Nairobi's traffic is severely disrupted due to its high growth and the biggest frustration of many a resident. When visiting Kenya (especially in and around Nairobi and Mombasa), there is no escaping the chaos and bustle of traffic. But the wait certainly pays off: As soon as you drive out of the hustle and bustle of the cities, you suddenly find yourself in the vast Africa as you saw it in The Lion King.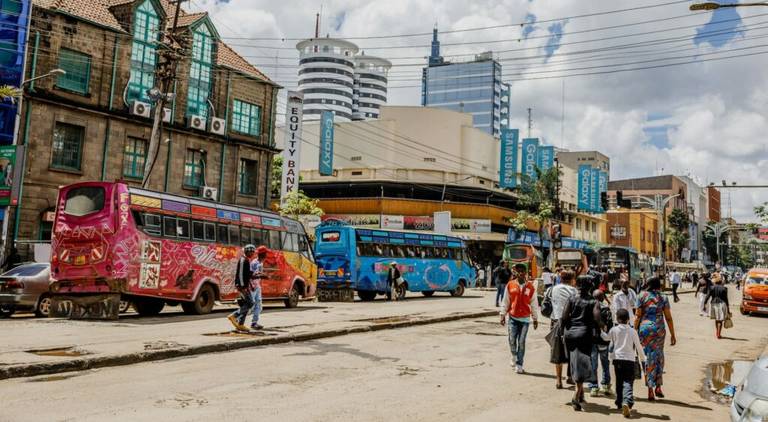 Time for the verdict: the pros; con's list!
Relaxed people: pole pole, hakuna matata!
Fewer tourists
The cities are quite clean and less littered.
Tourist attractions are more expensive
Travel distances are longer
People speak English less well
Bustling cities, a lot happening!
You can easily make shorter off-the-beaten-track loops from Nairobi
Stronger economy and good infrastructure
People can be pushy
Traffic can be chaotic in Nairobi Town