1. "OUR MOTHERLAND" AFRIKA
Africa, called "Akebu-Lan" in ancient times (literally translated as "Garden of Eden"), is home to many creatures on this globe. Covering an area of 30 million square metres, the continent is home to a wide range of fauna, flora and people. So whether you're eager to spot exotic animals – large and small – hope to observe dramatic landscapes, visit world-class beaches or discover rich cultural traditions… on the 'Motherland' you can do it all!
Ready to take my hand and explore Africa together? Let's go!

A total of 54 countries in the continent of Africa can be tapped on the world map, each of which has its own gems – geographically as well as culturally. 54 countries to travel to… that's no mean feat! To help you on your way to the wonderful paradise, 'the Motherland', we give you our golden favourites in Eastern and Southern Africa below.
Each country has different landscapes, cultures, languages, cuisines and animals. The possibilities are endless, and you can't see the jungle through the palm trees. In this blog we take you by the hand and tell you everything you need to know about travelling in Africa!
2.1 Golden favourites East Africa
Looking for a change of scenery in the East of Africa? Then NEXT COUNTRY is the place to be:
Kenya is the base of Charlie's Travels and not without reason! The country is incredibly beautiful and diverse, with plenty of hidden gems that only our angels know how to find.
CITY: Hit the streets and discover the modern and trendy neighborhoods of Kenya's capital

Nairobi

, where the word 'boredom' is not in the dictionary.
COAST: Dream away along the beautiful coastline, characterised by azure seas and swaying palm trees, or make friends with some giant turtles while snorkelling.
SAFARI: Marvel at the Great Migration in your 4×4 in countless safari parks and scratch the Big Five off your wish list.
ACTION: Climb the legendary Mount Kenya or clamber around the Taita Hills or Mount Ololokwe.
LOCAL: Immerse yourself in the colourful culture of the traditional Maasai or go on a trip with the ambitious Nairobi kids who know the metropolis like the back of their hand.
The ideal length of a trip through Kenya is – depending on the magnifying glass you make – two weeks. If you can't leave home for that long, you can easily travel through Kenya for shorter periods. The country has many easy routes and, yes, a supersonic fast train track!
Kenya is a cultural hotchpotch of more than 43 ethnic groups, each with its own language. There are also two national languages, Swahili and English – although among the younger Kenyan audience you may also hear a variant of both called 'Sheng'. Anyone travelling to this country can therefore easily make themselves understood in English.
DID YOU KNOW?
Kenya – officially called "Republic of Kenya" (1963) – is derived from "Mount Kenya", the 2nd highest mountain of the country as well as Africa. In Kenya itself, however, the world-famous mountain is given different names, including for example "Kĩĩma- Kĩĩnyaa" (Kamba), "Kĩrĩma Kĩrĩnyaga" (Kikuyu), "Kirenyaa" (Embu). All these terms – although different in sound – have the same meaning, namely "the one having stripes", referring to the black stone and white snow of the mountain that are similar to the feathers of an ostrich.
Welcome to Uganda, the "Pearl of Africa", known for its amazing green landscapes.
KAMPALA

: Open your eyes and let the crazy city of Kampala, crowned "Party Capital" of East Africa, take effect.
WATERPRET: In the east, contemplate the ancient

Nile

from the history books, experience its ferocious flow in a raft and hike to the thundering

Sipi Falls

.

KARAMOJA

: Want to explore the north? Then you can visit the Karamojong, an ethnic group that lives in the still untouched and rugged Karamoja. Get to know the culture of this interesting group and spend a night in the rugged nature, under the dark stars.
WILDLIFE: The West? Then you have the choice between numerous amazing safari parks where you can spot endless

wildlife from a boat

.
ACTION: Too much energy? How about

climbing Rwenzori mountains

, racing along mirror-smooth

crater lakes

or spotting chimps?
LORDS: In the southern part of Uganda, you will find idyllic lakes such as

Bunyonyi and Mutanda

, surrounded by countless islets and volcanoes that make for National Geographic-worthy photos with their reflections in the water surface.
BERGORILLA: The cream of Africa's crop? The Bwindi Impenetrable national rainforest, home to the rare mountain gorillas.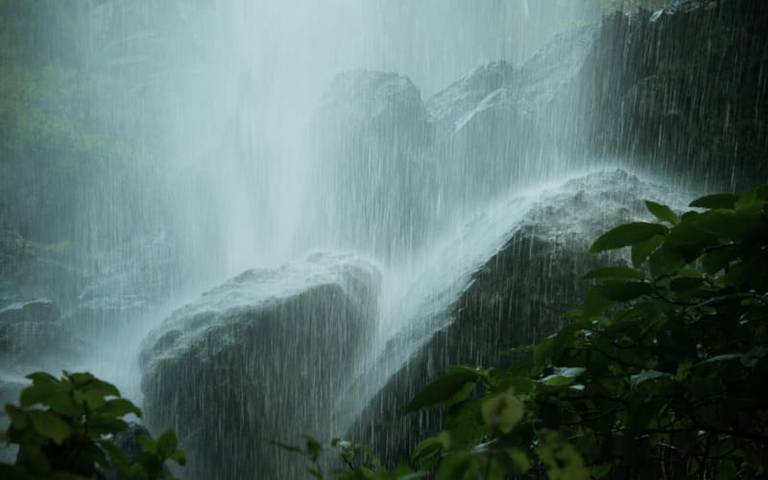 Uganda is smaller in area than Kenya. If you have enough holiday days and budget, you can therefore decide to see the country in all its glory. If you only have one to one and a half weeks off, we advise you to book a trip to either the popular south-west or the rugged north.
Uganda has 2 official languages, namely Luganda and English. You can therefore easily manage by yourself.
DID YOU KNOW?
In Uganda, the currency is a bit lower than in Kenya, Tanzania or Rwanda. Travelling around in this country and going on safari is therefore less expensive. Are you not a fan of other tourists? Then Uganda is the right place for you, because the country has a low percentage of tourism.
Tanzania comes a close second to Kenya if you're looking for the Africa you know from photographs…
WILDLIFE: If you want to spot every kind of wildlife and witness the Great Migration right in front of your eyes, then northern Tanzania with the famous Serengeti and the

Ngorongoro Crater

. Both areas are well known to a wide audience and can therefore attract many tourists. But don't worry… with our Angels on the ground you can avoid this tourism. We have numerous

off the beaten track routes

that will make you think you are living alone on this globe.
MOUNTAINS: In addition to safari parks, Tanzania also has beautiful mountain ranges such as Mount Kilimanjaro, the highest mountain in Africa, and the Usambara Mountains.
COAST: A little afraid of heights? Then you can visit the impressive Tanzanian coastline instead: from the unknown Tanga and Pangani, to the popular

Zanzibar

… In these places you will not only find the most dreamy beaches, but also a vibrant and colourful mix of culture and architecture between Swahili, Arabic and Portuguese!
With a size of 945,087 km2, you need a month to see the whole country. Destinations are generally far apart. Don't have a month to spare? Then we advise you to choose between the north, east, south or west of Tanzania – and possibly come back for more afterwards.
In Tanzania, Swahili, the language of the Disney film 'The Lion King', is the official language. English is also spoken, although the level of English is a bit lower than in Kenya and strongly depends on the amount of tourists that a place has. You don't have to worry though: drivers, guides and receptionists are perfectly bilingual and at your disposal at all times.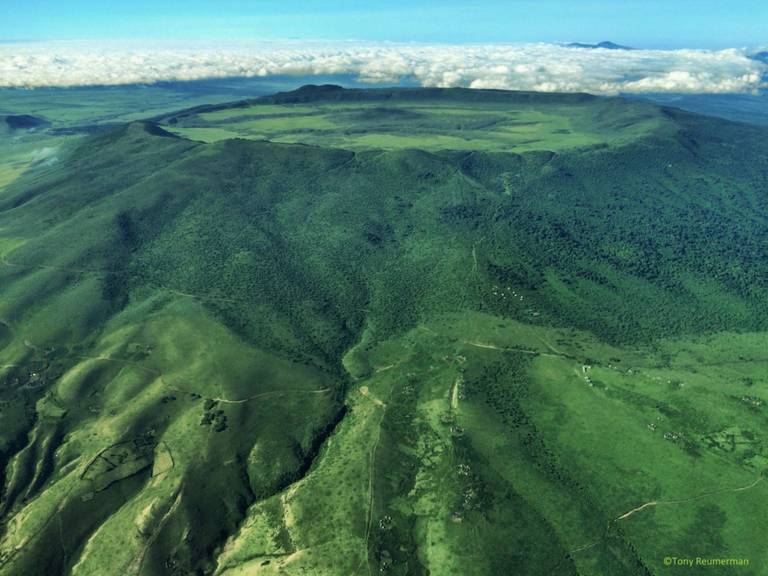 DID YOU KNOW?
Did you know that, unlike the Dutch and the Flemish, Tanzanians drink tea in the morning and prefer coffee for evening drinks?
If you thought Holland was small, you thought wrong! Rwanda, bordering Uganda, is small but super interesting. After the horrific genocide that took place here in 1994, the country developed rapidly… to such an extent that the country is now considered one of the cleanest and safest places in Africa, characterised by good organisation and an amazing amount of green. Highlights in Rwanda are:
KIGALI: Kigali, built on hills, is one of the most developed cities in Africa with 360° views to say 'wow' to.

GORILLA TREKKING

: Mountain gorillas also live in Rwanda. Follow in the footsteps of Diane Fossey and come face to face with these mighty yet gentle creatures.
LAKE KIVU: Lake Kivu is a paradise for sports enthusiasts. Cycling, hiking, kayaking, camping, swimming, … and all this is possible without a guide!

NYUNGWE FOREST

: Retreat into nature and let yourself be enchanted by the abundance of fauna and flora that can be found in this primeval rainforest. With a bit of luck you may even see chimpanzees!

LAKE BURERA

: Lake Burera, a mirror-smooth lake surrounded by green mountains and shaded by three mighty volcanoes. The ideal place for fishing or dreaming away to the sound of the paddles.

GENOCIDE MEMORIALS

: Rwanda has a violent history with atrocities that happened not so long ago. When visiting the country, it is therefore worth visiting one of the genocide museums or memorials.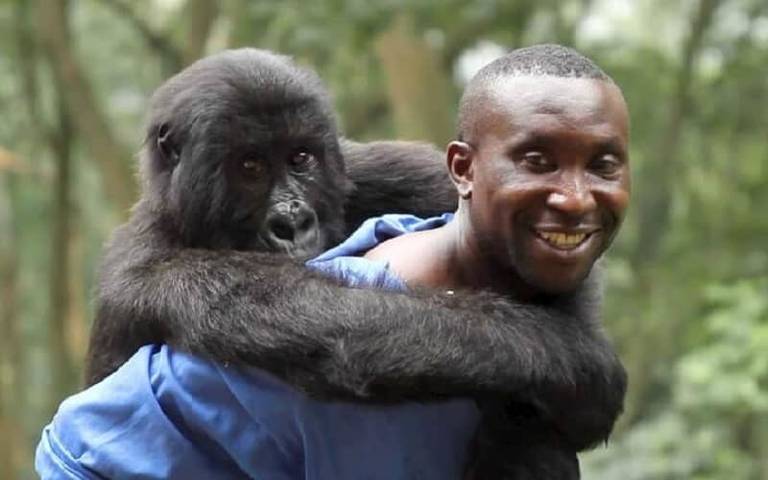 Rwanda is a small country, so you don't need much time to see the whole country. In 10 days you could travel through the whole country, where in other countries you can often only see a fraction.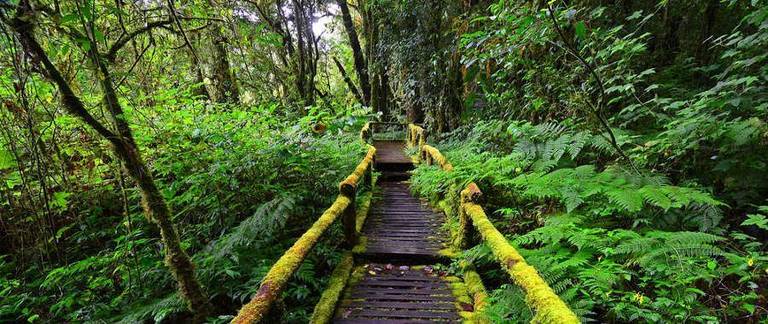 The national language of Rwanda is Kinyarwanda and is consequently spoken by almost the entire population. Besides the local Kinyarwanda, European languages are also spoken: English is used as the primary language in secondary and tertiary education. However, the majority of the population is French-speaking, which has its roots in the Belgian-Rwandan colonial past.
DID YOU KNOW?
Rwanda is budget-wise a bit more expensive than its neighbouring countries and – due to its altitude – also a bit cooler.
Ethiopia is a fascinating country… not for its wildlife safaris, but for its ancient cultures and surreal landscapes. When visiting this non-colonised country in the Horn of Africa, we advise you to put the following things on your to-do list:
LALIBELA MOUNTAINS

: Visit the vertiginous Lalibela Mountains, hike or scramble through some of the most beautiful landscapes and discover the rock churches that house stories more than 1,000 years old.
TIMKAT FESTIVAL: The Timkat festival (January), celebrating the baptism of Jesus, is a huge religious festival in Ethiopia, and especially in areas like

Gondar

, they pull out all the stops… Dance together with dressed-up locals to ancient music and let your taste buds loose on the spicy, unique Ethiopian cuisine.

HAMER TRAIL

: Trek through the hidden villages of the Omo Valley where the Hamer tribe lives, learn about their traditions and visit some of the oldest human fossils still standing.
DANAKIL DEPRESSION: Climb a living volcano in Danakil, spot the boiling hot magma floating in the crater and cross the endless salt plains closer to Dallol, then… float on the salt lake.
Ethiopia is large in area and is characterised by a rugged landscape, off the beaten track. This makes travelling in this African country a unique, but time-consuming experience. Do you want to be positively surprised during your tour of this country? Then we recommend you to take a driver with you and to set aside enough budget.
In Ethiopia, 90 different languages are spoken, 6 of which have been declared "national". English is the most widely spoken European language and is used in secondary schools. In reality, however, only a small percentage of the population can speak understandable English. This need not be a problem, as your driver will be able to make himself understood in English as well as in an Ethiopian language.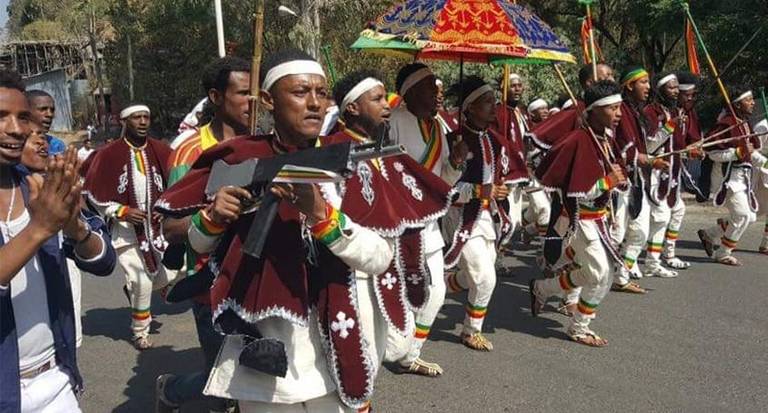 DID YOU KNOW?
Ethiopia is known for its aromatic coffee (espressotime!), the very first cup of coffee was made in this country. In addition, you can find the delicious Italian cuisine (pasta, pizza) in this area, which was introduced during a weak 4-year power grab from Italy. And, ever heard of Rastafari? You know, of Bob Marley, among others? That religion actually originated in Ethiopia!
Do you want to make a tour through Eastern Africa that counts several countries?
Good combinations are:
KENIA & TANZANIA: short loop through Kenya and the Tanzanian coast
KENIA & UGANDA/TANZANIA: Uganda with the Kenyan/Tanzanian coast
UGANDA & RWANDA: Trip through southwest Uganda and Rwanda's Kigali or around Rwanda and on to the beautiful southwest of Uganda
2.2 Golden Favourites Southern Africa
Looking for a change of scenery in the south of Africa? Then NEXT COUNTRY is the place to be:
South Africa is seen by many as the ultimate holiday destination in Sub-Saharan Africa. With a perfect mix of African adventure and strong European (Dutch!) influences, this is the Africa getaway.
CAPE TOWN CITY

: Cape Town, the mother city of South Africa, is a magical place where you can hop from hot spot to hot spot. Trendy food markets, luxurious beaches, colourful culture… The city has something for everyone.

JOHANNESBURG

: Johannesburg, also called Jozi by the locals, is without doubt one of the most active, vibrant cities in Africa and has a lot to offer in terms of culture and history. Think of hidden hipster districts such as Maboneng and the Apartheid Museum.

ROBERTSON WINE VALLEY

: Drive through the beautiful rugged countryside of the village of Montagu to Robertson Wine Valley, where you can enjoy a glass of South African wine and watch the vines in full bloom.

WILD COAST

: Wild Coast lives up to its name… Wild sea, rugged cliffs, surf, an unspoilt coastline and huge waterfalls. Discover all this beauty by swimming, hiking or car.
NATURAL PARKS: Climb mountains/rocks, swim in clear pools and count the stars in

Cederberg

, known by locals as "South Africa's best kept secret". Are you a real daredevil? Then you must be in Drakensberg. Hikers, mountain bikers, mountaineers and rock climbers can spend days in the remote valleys, steep cliffs, caves, waterfalls, rocky paths and misty forests.
KRUGER NATIONAL PARK: The Kruger NP is the oldest park in Africa and one of the largest game parks in the world. If you want to cross the Big Five off your list, this is the place to be!
COAST: A road trip through this beautiful country often leads you along coastal areas to write home about. Think for example of

Dolphin Coast

or

Whale Coast

: a white beach, an azure ocean and with some luck whales coming to say hello.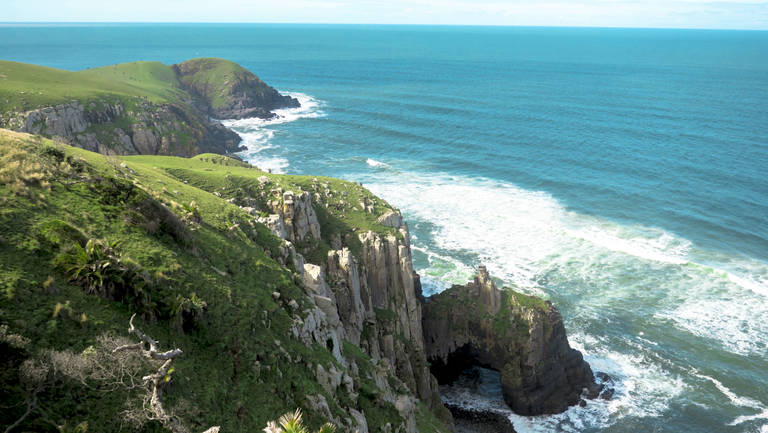 South Africa is big, very big. If you want to see the whole country, you won't need weeks, but months – yes months! – you will need months. When visiting this southern gem, it is best to choose one area that you do not want to miss.
South Africa may be huge, but its road network is excellent. A self-drive road trip on the winding, but well-maintained roads is therefore highly recommended and will give you many beautiful pictures as well.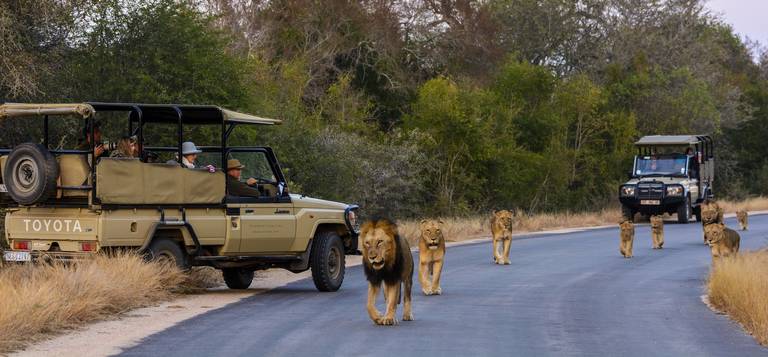 South Africa has 11 official languages, including, of course, Afrikaans and English. As an English-speaking or Dutch-speaking person – young or old – you can therefore get around very well in this huge country.
DID YOU KNOW?
Just like the Netherlands and Belgium, South Africa has 4 seasons. But… plottwist! These seasons are reversed! Is your family freezing in winter Europe, then you are in the south of Africa enjoying the warm summer sun. And it's not just the seasons that make South Africa the ideal refuge… South Africans are known for setting fire to the braai. And braai (i.e. barbecuing)? That they can do.
Mozambique is the second home of our CEO Guy Janssens and… he loves it! Although the country is not at the top of the bucket list of many African travellers, it is a magical piece of paradise where everyone can indulge himself.
UNDERWATERSAFARI WET BIG FIVE

: Go to the deserted beaches of Tofo and Vilankulos, look deep into the blue sea, learn a new water sport or… swim with the Big Wet Five (whale sharks, manta rays, devil rays, sea turtles and dolphins).
MAPUTO ELEPHANT SPECIAL RESERVE: Maputo Elephant Reserve can only be visited off-the-road with your 4X4. Think of some 70,000 hectares of lush greenery, bush, lakes, flood plains and rolling dunes that flow into deserted, white sandy beaches and an azure Indian Ocean. And in this no man's land? Some 200 elephants roaming around.

MAPUTO

: Maputo, also known as "the Rio of Africa", owes its name to its special mix of colourful Africa and modern Portugal. The city is also built on a cliff with a beautiful view of the bay.
Mozambique has a total area of 801,590 m2. If you want to see the whole country, you will need about 2 weeks for the north and another 2 weeks for the south.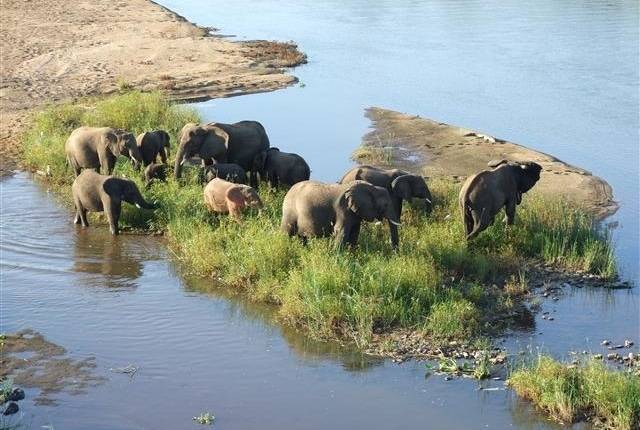 As a former Portuguese colony, Mozambique has adopted Portuguese as its official language. In reality, however, this language is only known to the more educated of the population. English is generally little spoken in this country. Time to bring out your Portuguese skills!
DID YOU KNOW?
1) Mozambique has many agricultural users: 80% of the population is engaged in agriculture, while only 5% of the total land area is suitable for it.
2) Ever heard of the 'Chopi' dance? The Chopi dance is a popular and beloved dance tradition from Mozambique. During this tradition, you will see colourfully dressed men in lion costumes hopping around on stilts.
Namibia is a diverse place with desolate landscapes that seem to come out of fairy tales. Botswana, on the other hand, is the ultimate getaway to the water curtain of Victoria Falls and the entire African wildlife. When visiting these diamonds in the rough, it is worth adding the following to your must-sees: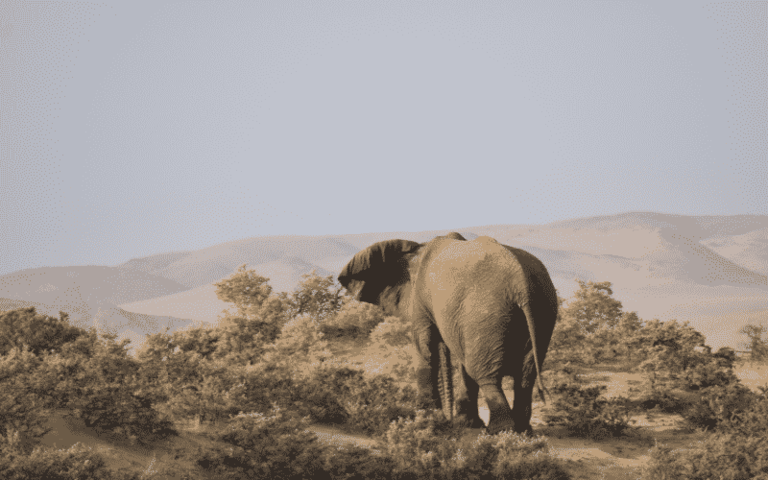 Namibia is hot and distances are great. Do you want to admire Namibia? Then head out on your own for 2 to 3 weeks in your luxurious 4X4 and camp on the ground in a small tent provided or, yes, on your car roof! More interested in Namibia's western neighbour Botswana? Then take a 14-day break… ideal to see the very best of the country.
Namibia has many ethnic groups, each with their own language. However, they communicate with each other and the outside world in English, the official language. Botswana is similar to Namibia in this respect. More than 20 languages are spoken in the country, of which Sekalanga (of the Bakalanga people) is the most used one. English has again been declared the official language and Setswana the national language.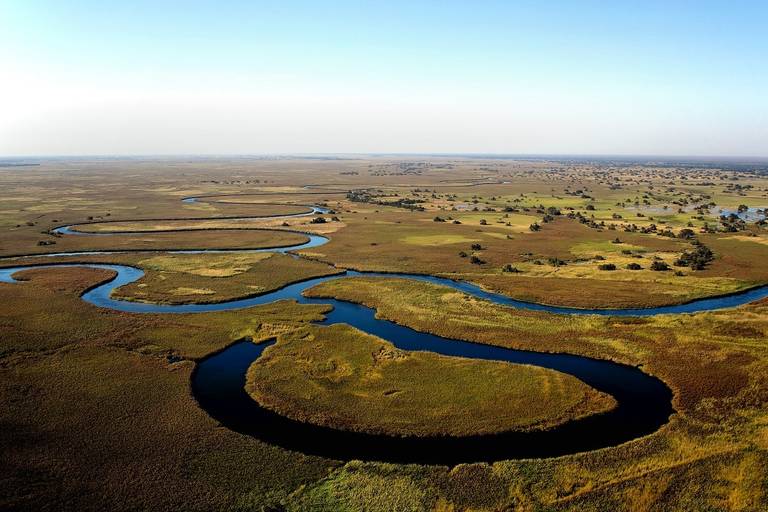 DID YOU KNOW?
1) Namibia is home to the cheetah, a highly endangered cat species in Africa. In total the country harbours around 2500 to 3000 cheetahs, which makes them unique in the world. By the way, did you know that Namibia, with barely 2.5 million inhabitants, is one of the least densely populated countries in the world?
2) Botswana is home to the densest elephant population in the world. Would you like to see these 'Kings of the Jungle' playing, drinking and swimming? Then you won't be disappointed in Chobe NP.
Would you like to make a round trip through Southern Africa that counts several countries?
Good combinations are:
SOUTH AFRICA & MOZAMBIQUE
ESWATINI & SOUTH AFRICA
Via the Orange River in NAMIBIA towards SOUTH AFRICA
Via LESOTHO in the direction of MOZAMBIQUE
Curious about all our destinations?
3. WHEN IS THE BEST TIME TO TRAVEL AROUND AFRICA?
Do you already know where you want to go? Then the next question is: When exactly are you going? Africa generally has 2 seasons, the dry and the rainy season. The dry season is ideal for quickly spotting wildlife around the scarce water sources. The rainy season is a good time for nature lovers and those who want to see the baby boom.
However, if you want to be sure that you are travelling to an African country of your choice at a suitable time, we recommend that you check the travel advice per country. The best time to travel depends not only on the climate, but also on cultural stability. Think for example of sudden conflicts or elections. To help you, we have listed the best travel periods per country below.
3.1 Travelling time in East Africa
The best time to travel for our GOLDEN FAVORITES in EASTERN AFRICA is:
Kenya's climate is ideal between December and February, when people can enjoy sunshine and rain is scarce. However, if you travel between March and June, you will be confronted with powerful downpours, which are unavoidable, especially in April at the coast and on Lake Victoria. If you are in the capital Nairobi, you can also expect a mini rainy season around November/December. Safari fans are advised to avoid these rainy seasons.
The period from June to October plus the month of December is high season in Kenya. During the other months, national parks and other must-sees are cheaper and less crowded with tourists.
Uganda is best visited in February/March or between June and September. Then the weather is pleasantly warm. If you go in January, you can count on scorching hot temperatures. However, if you go in April/May or between October and December, you will have to deal with the Ugandan rainy season. This means muddy roads, flooded beaches on Lake Victoria and possible landslides in mountainous areas.
In March/April/May and October/November it is low season in Uganda. During this period prices are a lot lower, e.g. for a gorilla permit, and there are less tourists in this area. A disadvantage is that in general fewer things will be open – accommodation-wise and park-wise.
The best time to travel to Tanzania is between June and September. The rainy season is over by then and you can enjoy nice and warm temperatures during the day (not sweat-soaked hot!).
Want to go on safari and see the Great Migration live in front of you? Then you must go to the Serengeti between December and March. In this period, it is the dry season, which means that wildlife can be seen clearly in the dry savannah, clustered around the few water sources in the park.
Between March and May, plus the month of November, it is low season in Tanzania. That means no headlines and… 'budget travel'!
Rwanda is characterised by a long dry season from mid-May to September and from December to January. The ideal time to travel around?
The dry season is equivalent to the high season: higher prices and a relatively high amount of tourists who fix their accommodation and activities as soon as possible. Yes, you can be spontaneous in a country like Rwanda, but make sure you book that unforgettable gorilla trekking… Places for gorilla trekking are limited and in the rainy season torrential rains can ruin your trekking.
If you travel to the north of Ethiopia, it is best to go outside the European summer months. Our summer coincides with the rainy season in the northern area, although that rainy season is quite manageable. In the south, on the other hand, the rainy season is in November as well as late March/early April. It is best to avoid these two monsoons, as roads can become poorly passable or even completely unusable during these periods.
The best time for a trip to Ethiopia is therefore from October to February. The weather is pleasant then (5-20°): little or no rain, nor hot temperatures around 30-40° (as in the months of February to April).
Since Ethiopia is not well known as an East African tourist destination, the country does not yet have a high season. So there is no need to fear a rush of tourists.
3.2 Travel time in Southern Africa
The best time to travel for our GOLDEN FAVORITES in SOUTHERN AFRICA is:
South Africa is huge and diverse. The best time to travel therefore depends on where you are in the country and what you want to do. Would you like to go whale watching? Then South Africa is the right time for you from July to November.
On top of that, the South African climate is characterised, just like in the Netherlands and Belgium, by 4 seasons… but the other way round!
If you go to the South-West (cf. Cape Town) in winter (= our summer), the weather is drizzling, wet and fresh. This is in contrast to the summer (= our winter) which is very hot.
Are you going more to the north-east? Then the winter is pretty chilly, while the summer months are characterised by a pleasant warmth.
Whether you go to the south-west or the north-east, in the winter months July/August you can count on a real flower feast: colourful fields as far as the eye can see!
Temperatures in spring (March-May) as well as autumn (September-November) are relatively stable throughout the country – ideal for booking your trip to South Africa!
The South African summer (December/January) can be seen as the high season: Europeans flee their cold countries and travel to the African state where the landscape is in full bloom, temperatures are high and rainfall is rare.
The best time to travel to Mozambique is between June and September, the dry season. Think of warm days and cooler nights. However, a holiday trip to this country is also possible during the rainy season. The showers in the rainy season are so short that they can hardly ruin your holiday.
The high season, characterised by ideal temperatures but also tourism and higher prices, falls in December/January for Mozambique.
When it is winter in Europe, it is summer in Namibia and Botswana. But unlike South Africa, you don't want to be in these countries then; unless you want to bake in temperatures of over 40°C. The same goes for summer. If you visit these places in the African winter, it can cool down to freezing temperatures at night. The rainy season doesn't affect your trip that much, except if you want to stay in the north. Here, between December and mid-March, there can be heavy rainfall, resulting in muddy roads.
The best time to visit this country of surreal landscapes is therefore in spring or autumn (September, October, May). However, if you want to visit the Okavango Delta, we recommend going in the European summer months (i.e. winter in Namibia & Botswana), when the delta is well fed by the Okavango River.
July to October can be seen as the high season in Namibia and Botswana. In these months, there is a pleasant temperature between 18 and 25° and higher in October. Since this period is popular with tourists, it is best to book early.

Africa… a continent of poverty, crime, war and wild animals? That is how the media has portrayed the continent for a long time. In a "2019 round-up of the world's most dangerous cities", African cities do not appear in the top 10… the Americas already take those places.
As a result, a highly distorted image of Africa has been spread around the world that does the beautiful continent a great disservice. Time to change this!
Africa is much less dangerous than the media make it out to be.
If you are unlucky as a tourist, you will usually fall victim to petty theft or catch a tropical disease. But don't worry about this! As a visitor, you can be well prepared for both:
Petty thefts happen in every big city, e.g. in Paris in the metro. So keep an eye on your mobile phone and your handbag, close to yourself, and the chance that something will happen to you is small.
Most tropical diseases are easy to prevent: For malaria, you can take malaria pills during your trip, which will make you immune to the disease. If, for some reason, you cannot take them, you can also be treated for malaria – if necessary. You can also go to almost any pharmacy or hospital for fast, cheap and reliable malaria tests that will immediately give you the right treatment if necessary.
Travelling in Africa is to some extent as safe or unsafe as you make it. If you want your African trip to go smoothly and safely, it is important to be aware of certain risks and how to avoid them… Below we give you a short guide that can be useful wherever you go in Africa.
1) TRAVEL ADVICE FOR YOUR DESTINATION
Check the travel advice for the country you are visiting in advance on the official site of the Ministry of Foreign Affairs in Belgium or the Netherlands.
A country like Kenya for instance is safe to travel to, although we advise you to skip the north-western part of the country. In the northwest, Kenya borders Somalia, an area which can be quite restless from time to time.
2) BIG CITY VS. GAME PARK/LOCAL VILLAGE
In a big city/ metropolis, petty thefts are a common crime. To avoid becoming a victim, there are certain things to keep in mind:
In a car with an open window, don't bring up your phone, or make sure the car door and window are closed/locked.
Hold on to your purse.
Do you have to go somewhere at night? Don't walk the streets, order a taxi.
Be careful when you are going to withdraw money.
If you are in a game park or local village, it is advisable to listen carefully to the instructions of the ranger/driver. This person has experience with the area and knows what is and is not allowed.
Tropical diseases such as malaria, dengue, ebola … We have all heard horror stories about them. But like horror stories, they are usually made more exciting than they really are. Malaria, for example, is easy to treat and even easier to avoid. You can avoid it by taking pills or by simply avoiding risky areas.
Our advice on tropical diseases?
Check whether your destination is a risk area for a tropical disease.
Inform yourself at the GGD about possible medication that makes you immune for the disease.
Take enough long trousers and insect repellent (e.g. DEET) for the evenings, when the insects are at their most active (= useful even when there is no threat).
5. MODE OF TRAVEL: TRANSPORT POSSIBILITIES
Rent a car, put your things in the boot and head for the horizon with your hair blowing! A self-drive is ultimate freedom. You can determine your own travel times and the kilometres you cover in a day.
African countries suitable for a self-drive are:
Kenya
Uganda
Rwanda
Namibia
South Africa / Eswatini
The above countries all have a well-maintained road network and the distances are not too long or offer nice stops. However, during your trip you will also have to deal with unpaved roads in e.g. game parks. We therefore recommend you to rent a 4×4 or, even better, a steel horse with a rooftop tent!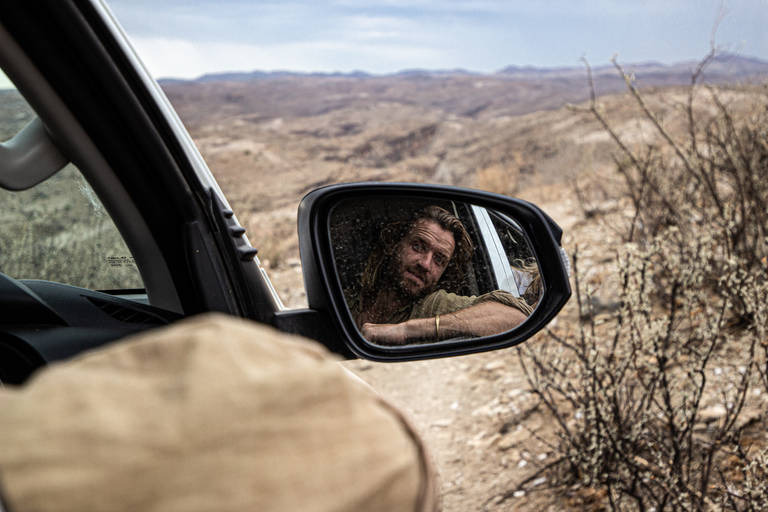 Prefer not to drive yourself, but rather stare out of the window at the amazing landscapes that unfold one by one? Then you can opt for a road trip with driver! Especially in countries where English is not the official language (e.g. Ethiopia or Mozambique) or where the distances are long and rough (e.g. Tanzania), a road trip with driver can take away all your worries.
The bonus of a chauffeur? He/she can tell you a lot about their country and culture during their service and… who knows, you might even learn a new language!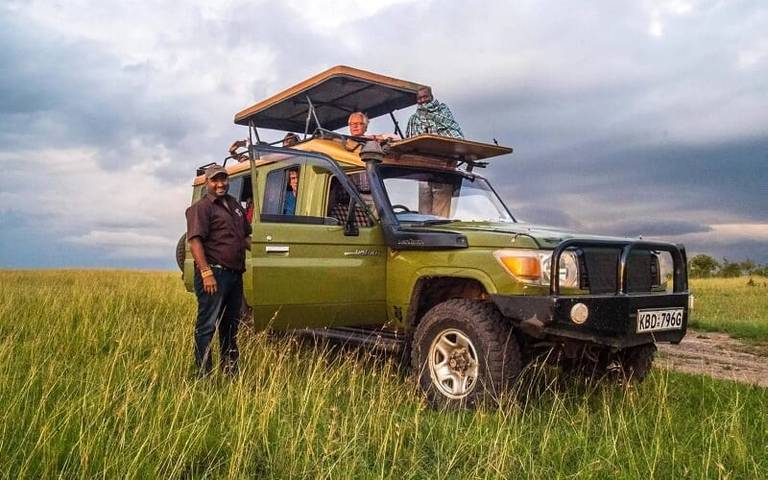 Are you a real diehard or road devil? Then you can opt to cross the African continent at the Hell's Angels style. Do you like to crawl on that motorbike, but you are not a seasoned motorcyclist? Then Charlie's Travels can arrange a 1 or 2-day motorbike safari for you, in which you – on the back, or behind the wheel yourself – will discover some nature spots. Think for example of the vast plains of Kenya's Magadi Desert and the Amboseli National Park, the mirror-smooth crater lakes of Uganda and/or the misty jungle of Rwanda.
When you decide to go backpacking, chances are that you will use public transport to travel around the country. This has both advantages and disadvantages.
Pros: Many countries have large line buses that cover long distances, even during the night (including reclining seats!).
Disadvantages: These buses have fixed pick-up and drop-off points. So you have a lot of arranging and waiting before you have found a taxi (in the form of a moped, car or bus) that can take you to your final destination or nearby stop. Public transport is also not always a safe option: think of buses that drive too fast or drivers who make journeys of 15 hours in a row.
Countries with 'decent' public transport are…
Kenya: In Kenya you will find a train track that runs between Naivasha and the coast. Fast, cheap, comfortable and you can see the elephants from the train window!
Rwanda: Rwanda is small, well organised and has perfectly maintained roads. The country also has bus connections throughout the country and the distances are doable on a daily basis.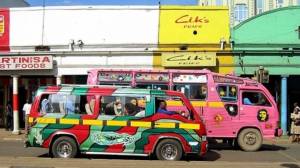 Flying is an efficient way of getting around when you are travelling in a large country and your holidays are limited. However, this form of transport is very polluting for our fragile Mother Earth… We therefore advise you only to do this when you really have no other choice.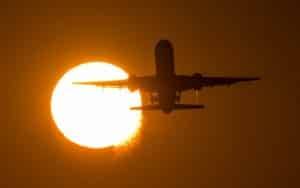 6. TRAVEL AGENCY IN AFRICA
When you book with a travel agency, you are often presented with a package holiday with the tourist attractions. Charlie's Travels, however, is an exception to this rule. As an on-the-ground travel agency, one of the Charlie's Angels designs together with you (cf. co-creation) an authentic journey that you will never forget. When you book with us, your Africa trip will not only be positive for you, but also for the locals and the nature we directly support. How? We will explain this briefly below.
Charlie's Travels is an on-the-ground travel agency, based in Nairobi (Kenya) with an international team spread "all over Africa". Our Angels team currently consists of Dutchmen, Belgians, Kenyans and South Africans who have all made Africa their home. In other words, they know the destinations like the back of their hand, the national parks like the back of their hand and they know the best hidden places in the bustling cities. And last but not least, should something go wrong during your trip, we are not only 'one-phonecall-away' but also literally 'in the neighbourhood'.
Since we are on-the-ground, we can offer you our own unique routes – off-the-beaten-track! Our founding father Charlie is a full-time traveller, always looking for new, authentic experiences to set up with locals. The result? You travel to unknown places and meet interesting people you would otherwise never meet.
Every jar has its lid and every traveller has its specific journey. Together with one of our Charlie's angels, you will design a unique trip, completely tailored to your wishes. How do we get started? By putting your ideas and our expertise together on the drawing board and getting to work! (movie 1 subs Charles)
Through your trip, you not only have the time of your life, but you also support the local economy of your destination. All our unique itineraries are designed in cooperation with local partners, so your budget goes directly to the local organisers rather than to foreign investors.
Mother Earth is our home and gives us everything we need. But man has abused her and our mother has become vulnerable. The best way to protect her is to banish travel, but that is not really an option, is it? To realistically protect the health of our wonderful globe,
Charlie's Travels automatically invests a portion of your travel budget in sustainable projects that green the earth. Want to decide where part of your money goes? Here you can find all the projects we currently sponsor.