"Children find cats very special, and in the Mara you can always see lions, cheetahs or leopards!"
Annemarie, mother of 8-year-old Sophie, agrees. The first time Sophie went on safari she was 2.5 years old. Where they used to spend as many hours in the car with a sandwich behind the wheel as possible, now they visit a lodge with Sophie to have a quiet lunch and maybe even a swim. Sophie has already seen many National Parks. Parents themselves find the Masai Mara too touristy, but they think it is a suitable park for children. "Cats are attractive to children, and in the Mara, you can always see lions, cheetahs, or leopards."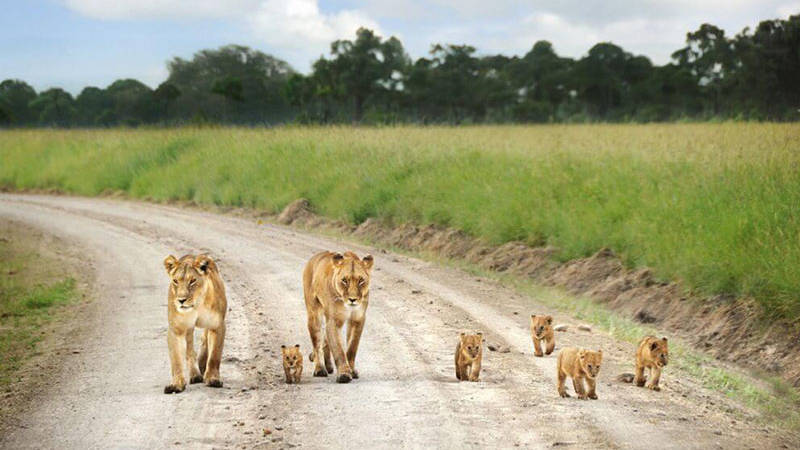 But Amboseli is their favorite park, because of the many elephants and a beautiful view of Kilimanjaro in Tanzania. "The snow-capped peak of the Kili is incredibly intriguing for children." Amboseli is also a perfect stopover on the way to the coast, according to Cornelia, mother of 2. Amboseli Busch Camp, where you can see elephants from an elevated terrace coming to a waterfall to drink, with Kilimanjaro in the background, is where Yga with her 4-year-old daughter and two and a half-year-old son like to spend the night.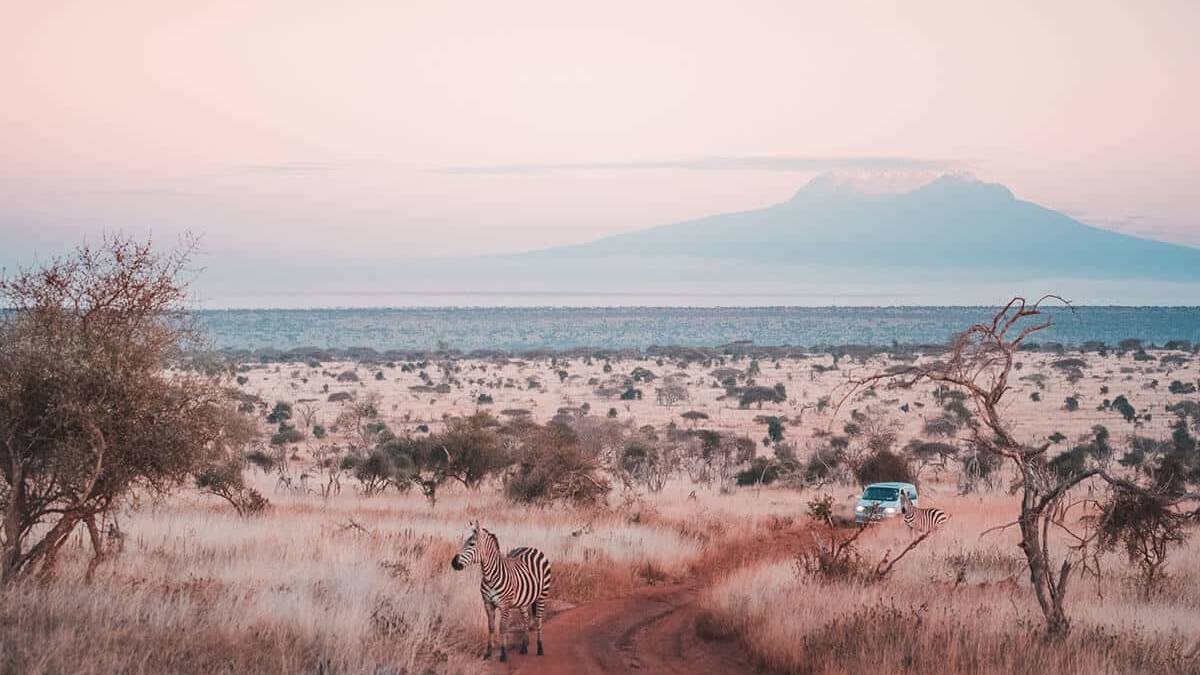 Make sure you have an animal guide with you so your kids can make it a sport to tick off all the animals.
Those who want to go to slightly less touristy parks should try Ol Pejeta. This reserve stands out from most parks; it is spacious, clean and in addition to all known animals, Ol Pejeta also houses an orphanage for chimpanzees. Joep, who has lived in Kenya for 15 years and thinks game drives are the main reason to live in Africa, combines a visit to Ol Pejeta Conservacy with a road trip through Samburu. With his three kids in the back seat and a picnic basket in the trunk, he likes to sit by the Ewaso Ng'iro River to spot monitor lizards and crocodiles.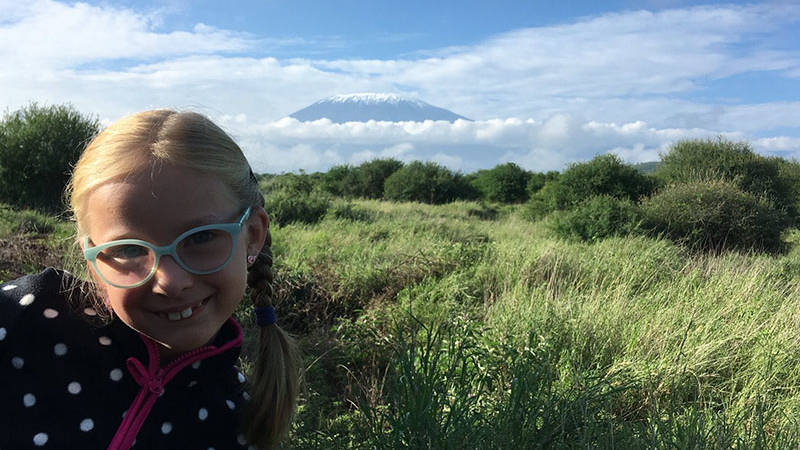 Grevy's zebra? Somali ostrich? You will only find them in Samburu
Yoon, father of three children aged 18, 14 and 7, also likes to go on safari with his family. Samburu National Reserve is his favorite park. It is not the most famous National Park in Kenya, but it is a park where you can spot many animals. In addition to lions, leopards, cheetahs and about 900 elephants, this park also has animals that you will not encounter anywhere else. Ever heard of the Grevy's zebra, the reticulated giraffe, the Somali ostrich, the giraffe antelope and the East African springbok? No? Well, in this park your child can cross them off the list! Because that's a tip from Yoon; make sure you have an animal guide with you so your kids can make it a sport to check them off. All with binoculars in hand and start spotting!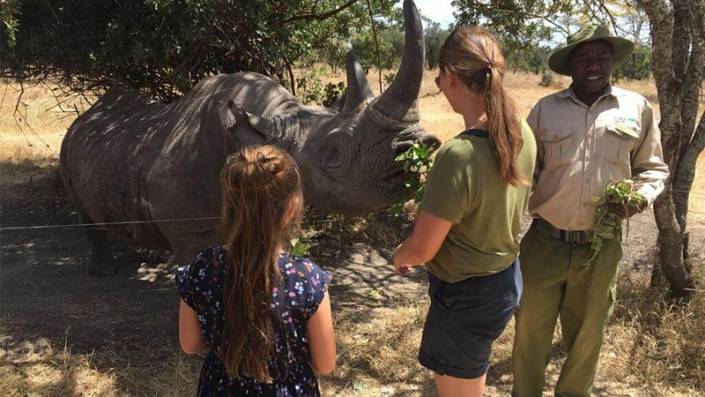 Don't feel like sitting in the car for hours before the safari starts? Even then, Kenya is perfect! Kenya is the only country in the world to have a National Park that borders a city: at the city limits of the megacity Nairobi you enter the smallest – but certainly not small park in the country. With the skyline in the background you are guaranteed to see giraffes, buffalo, zebras and antelopes, and spotting lions is the rule rather than the exception. And if you're lucky, a family of endangered black rhinos will cross the road in front of your car!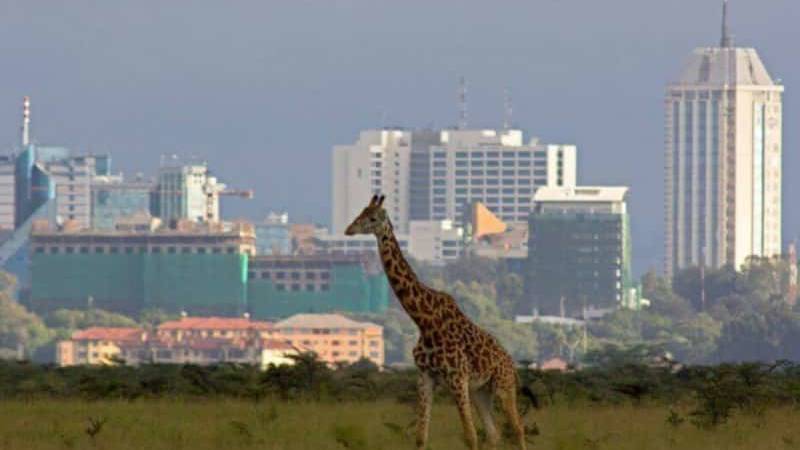 So, pack your sunscreen, cap, binoculars and animal guide and contact us for the coolest safaris with your kids!
About this blog series: Kenya with your children
About this blog series: Kenya with your children
This blog is part of a series of blogs about how wonderful it is to travel with your children in Kenya. Kenya has something for everyone. Do you want to be active? Enough great hikes, mountain bike routes and water sports. Do you want to relax? Pearly white beaches and azure blue sea await you on the coast, while the super helpful and child-friendly Kenyans take care of your offspring. Do you want adventure? Go camping among the wild animals, or taste the life of the real Masai during a tribal trek. And do you want to avoid malaria areas? No problem, enough options to fill three weeks with unforgettable experiences! Yes, you have to be a bit flexible, but hey, you have to on every vacation right? In return you will get an unforgettable, once in a lifetime experience! I myself have been living in Kenya since 2014 and have two daughters aged 2 years and 6 months. But not only to speak from my own experience, I spoke to a number of "experts": other Dutchies who live with their children in Kenya.
Cornelia has lived in Kenya for 30 years with her two children, aged 10 and 12. She is a personal assistant at the French School in Nairobi.
Jessica moved from South Africa to Kenya last year, and now lives here with her 13-year-old daughter and 10-year-old son.
Janet moved to Kenya for love eight years ago and now has two sons, aged 2 and 5.
Joep made Kenya his home base 15 years ago and lives here with his three children aged 11, 10 and 8. He runs Expats to Expats.
Ayan moved to Mombasa to be closer to her mother. She has girls aged 19, 17, 15, 6, 5, 3 and 1 years old, and a son of 13.
Annemarie has been living in Nairobi with her 8-year-old daughter for two years and has a house in Diani, which they rent out.
Yga moved to Kenya with her family two years ago for work. She is the mother of a 4-year-old daughter and a 2.5-year-old boy and are expecting the third.
Yoon is an IT specialist and traveled to Kenya with his wife a year and a half ago. He is the father of two sons and one daughter of 18, 14 and 7 years old.
Marion came to Kenya 30 years ago and has four children who are now 27, 24, 21 and 15 years old. She is the founder of the Sarakasi Trust foundation.