Sustainable travel with Charlie's Travels
At Charlie's Travels, we not only want you to discover Africa in a unique way, but we also strive to take sustainable travel to the next level. We will take you to hidden gems, places not yet overrun by tourists, and all with great respect for Mother Nature. We work with eco-lodges, support local communities and do our bit for conservation by working with partners such as JustDiggit. At Charlie's Travels, adventure and responsibility go hand in hand. If you love to explore and make the world a little better at the same time, we are your ideal travel company!
Imagine being awakened in the morning by the roar of a lion instead of your irritating alarm clock. Welcome to Africa, the continent where animals are the real VIPs and where even the term "zoo" just means a normal day. Here camels stroll peacefully across the crosswalk and savannahs bustle with action. Let's take a look at the wildlife of Africa.
What kind of animals are there in Africa?
To list all the animals of Africa, you would need a book as thick as the Bible. Let's face it; you don't feel like reading such a thick report and I don't feel like writing such a thick animal book. But Africa is home to some celebrities such as the lion, elephant, buffalo, leopard and rhino – also known as The Big 5. But this gigantic continent has much more to offer: from giraffes and zebras to chimpanzees, gorillas, whale sharks, penguins, crocodiles and all sorts of colorful birds. Africa has an impressive animal kingdom, even when we can't name all the stars of the show.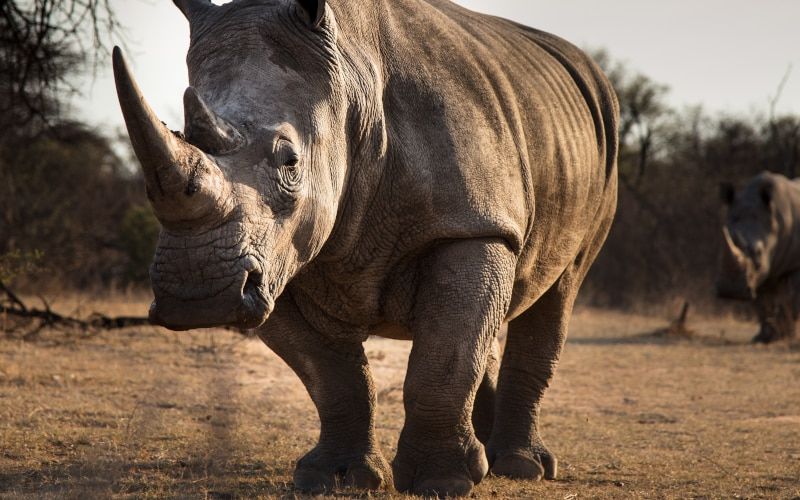 What is the rarest animal in Africa?
Africa's wildlife is incredibly diverse, and this vast continent is home to some of the world's rarest and most endangered species. Really naming one animal as the most rare is difficult, but below you will find a list of four African animals that are difficult to spot for various reasons.
1. The endangered rhinoceros
The rhinoceros is one of these rare African animals, especially the black and northern white rhinoceros that are threatened with extinction. In fact, there is only one left of the Northern White Rhino, this one found in Ol Pejeta. The horns of these yokels of beasts are like nuggets of gold on the black market. Some people consider them status symbols and others think they have magical powers.