Let's go back in time for a moment. No idea exactly when, because nobody knows when Mombasa was really founded. We do know that it was already labeled as a major trading city in the 12th century. Ivory, copper, sesame and coconut, among others, were important export products. Everyone has left their own mark on this city and we find influences from all over the world here: remnants of British imperialism, influences from India, the Middle East, local culture and even remnants of the Portuguese colonial era. . It was also said: "He who dominates Mombasa, stands between the riches of Africa and the Indian Ocean trade".
However, not everything was beautiful and cheerful in life as a colony. The city also had a very dark side: Mombasa was an important center for the slave trade. In the 18th and 19th centuries it was an import and export of slave ships in the port of Mombasa. Remains of this can still be found in the city. For example, a city clock can be seen at Nyali Bridge; this bell was rung to warn residents to hide as slave traders were on their way. You can also still view the slave cells in Fort Jesus. Fiercely!
Mombasa is chill. Very chill. When you ask someone on the street what really Mombasa is, you will often get the answer: "Mombasa raha". This is synonymous with take it easy, pole pole, take it easy. And that is clearly reflected in the city! You would almost wonder if you are not walking through the Amsterdam Vondelpark where everyone is smoking a joint, the people are so relaxed. In parks you see men taking naps on benches, traffic is almost always stagnant and everyone does everything at their own pace. So let your Dutch hurry slip away and immerse yourself in the sunny relaxation of Mombasa. Whether you're negotiating at the market, getting stuck in a traffic jam with your Uber, or waiting thirsty for your cocktail. Go with the flow!
Tropical beaches, all inclusive resorts and palm trees, that's where the standard tourist often comes here. TUI tourism at its best, but luckily we have deviated from the beaten track for the real adventure!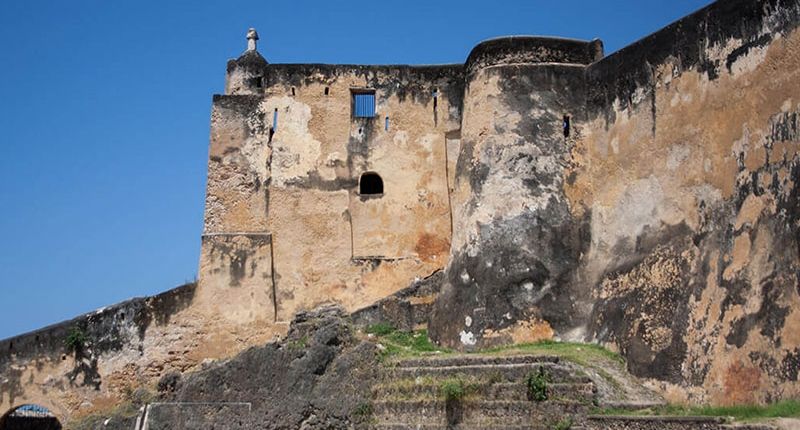 Colorful and chaotic markets, remnants of the Portuguese colonial era, drinking super local coffee and all kinds of cultural hotspots: a walk through the old town of Mombasa is something you should definitely not miss during your visit. Read more about the awesome walking route that we have put together especially for Charlie's Travelers here!
Diversity alert! Think not only exotic scents and brightly colored herbs but also very different food. Due to its favorable location on the Indian Ocean, Mombasa has influences from all over the world, something that can be found in the food culture of the city. Our favorites? Without a doubt at number one: Forodhani in Old Town. Insanely delicious food (freshly caught fish, Swahili cuisine) on the water at great prices. Do you really want to eat local hardcore off the beaten track? Then visit Tarboush, the street food cafe of Mombasa: a favorite among locals, unknown to tourists. Need more tips? We have written them down for you!
Curious about all our destinations?
Diversity alert! Think not only exotic scents and brightly colored herbs but also very different food.
An afternoon at the beach while you're here and don't feel like traveling far for it? The areas outside Mombasa in particular are known as the most beautiful coastal destinations (more about that further on!), But if you also need an afternoon at the beach while in town, pay a visit to Nyali beach. Here you will generally find many Kenyans; you know you're in the right place when the locals like to be there. White beaches, swaying palm trees and the Indian Ocean at your feet: not bad, right?
At Mombasa Yacht Club, boating enthusiasts can go wild! Choose whether you just want to get a breath of fresh air for an afternoon on the water, or take a multi-day sailing trip along the coast: Charlie's Travels has put together a special trip together with Mombasa Yacht Club, where you can explore the beautiful coast by boat for several days. Can you picture yourself sailing on a sailing boat? Aye, Captain!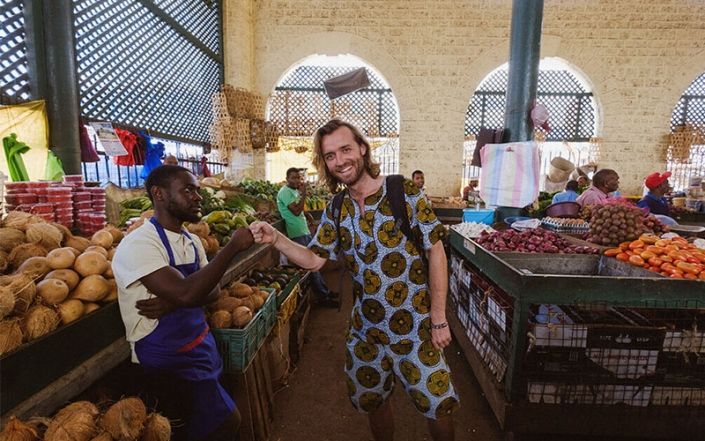 Have dinner or party on a dhow
Show your Dutch moves between the swinging Kenyans on the party boat. The Tamarind Dhow (traditional Arabian ship) leaves around 8am and returns late at night. Food, drinks and tasty beats: this (monthly) local party experience is definitely recommended. Prefer a more relaxed option? That is also possible. Every week you can take the dinner boat trip: enjoy the food while you cruise, but without a dance floor and with the sun setting.
Mombasa is ideal as a stopover before you travel to the tropical seaside resorts. From the city you can go to the most beautiful places on the coast: Diani, Kilifi, Watamu and Malindi.
This blog is part of Africa Inside Out.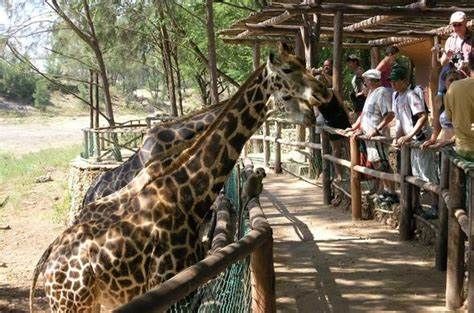 Wondering where the train from this relaxed coastal city goes even more in the rugged interior? See it in the series railway stories.